Refund and Warranty Policy
Product Warranty Statement
Thank you for choosing Thomas & Betts, the makers of Carlon® brand products. In order to better serve you, please have your model number and quality control number available in order to assist in helping with your questions.
• The model number is listed in the upper left corner of your instruction manual or upper right corner of the card insert card that was packed with your product.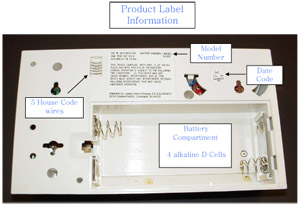 • Where to find your model number and QC number if you do not have your instruction manual or backer card available:

• Identifying your quality control number: The first two numbers represent the week of manufacturing, the last two represent the year it was manufactured. I.e. 01/05 Week one of 2005. This number is important to identify if your product is still under the manufacturers warranty.

• Manufactures warranty statement: The product you have purchased is guaranteed against defects in workmanship and materials for the period stated on the package. If the product fails due to manufacturing defect during normal use and intended product use, return the product to the store where purchased for replacement OR send product to:
T&B Retail
Attn: Customer Service Replacement
32425 Aurora Rd. Ste: A
Solon OH 44139
*If returning product for replacement, please include your shipping address along with receipt of purchase and why you are returning the product. Please allow 2 to 3 weeks for your replacement item. Thomas & Betts reserves the right not to replace product if due to product tampering or misuse of product or product is out of the warranty time period.
*Limited warranty time line: Products with date codes of 52/04 and older are out of the stated warranty time line and can not be returned for replacement. If you are having technical difficulties with your product, please use the following FAQ menu for assistance.